Blisworth Hill Farm Business Park is situated conveniently between Milton Keynes, Northampton, and Buckingham. It is set within beautiful surroundings and offers self-contained offices that have been sympathetically restored from working farm buildings. The offices provide a pleasant blend of modern facilities with traditional architecture comprising natural stone walls with brick reveals and slate covered roofs.
David Cosby were delighted to be instructed to assist with the planning and design of a new Gymnasium, Cafeteria and Conference Centre at the business park.
A large ornamental pond stocked with Carp is situated at the entrance to the business park. The proposals were to wrap the new building around the north side of this pond and to introduce a decked terrace area extending over the water. This would enable integration with this attractive element of the site and provide a pleasant area for staff at the Business Park to relax.
Our intention was to provide a sympathetic structure that assimilated with the surroundings and utilised vernacular building materials which would reflect the qualities of the existing buildings on the site. The roof was to extend partly over the terrace area, providing a covered seating area.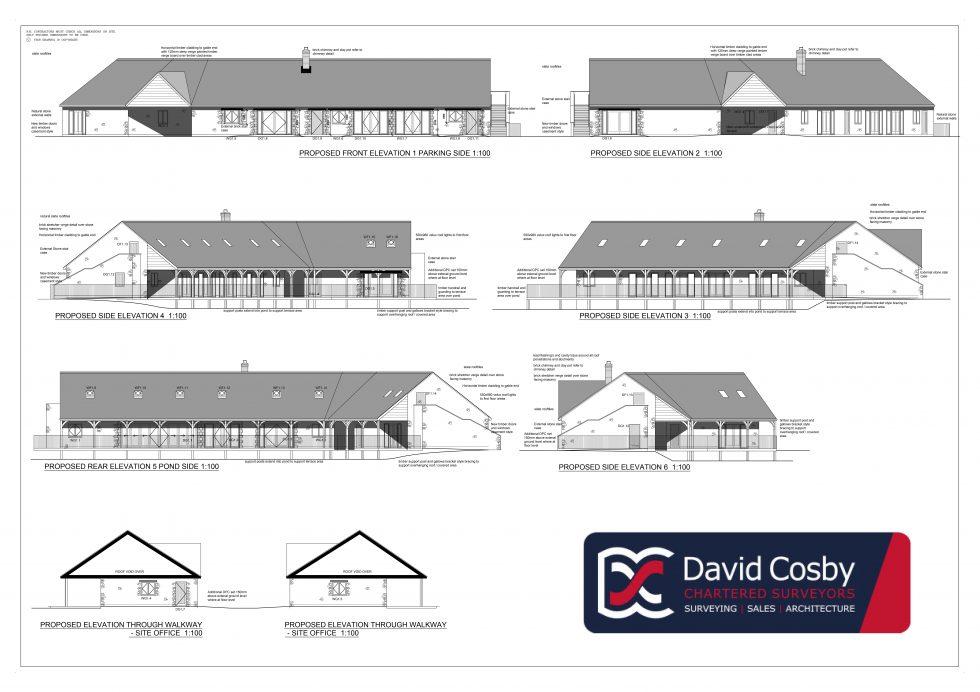 The project was not without its difficulties and liaison with a local Structural Engineer was required due to the Blisworth Canal Tunnel running directly beneath the site.  Blisworth Tunnel is the longest freely navigable tunnel in Europe and was constructed in 1805.  A method statement providing calculations, an assessment of the geology and details of the tunnel structure was prepared and submitted as part of the planning conditions. This demonstrated that the proposed means of construction would not impose any adverse loadings on the tunnel structure and approval was given to proceed.
The facilities are now complete and, once Covid-19 restrictions are lifted, the office staff at Blisworth Hill Business Park are very much looking forward to making use of them.
For more information on Blisworth Hill Business Park please visit their website here.
For enquiries regarding the architectural services that we are able to offer at David Cosby please call us on 01327 361664 or contact us here.