Northampton's Wells
Until only a few decades ago turning on a tap within your home and seeing an unending supply of clean fresh drinking water gushing out would have been unobtainable for most Northamptonians.  Water for drinking, bathing, and cooking needed to be physically drawn from wells or carried from a spring which would likely have been a considerable distance from the home.
Northampton has its fair share of historical wells. Local street names pay tribute to them and include Scarletwell (used for dying Royal wool), and Swineswell Street (now called Derngate).
Brewery Wells
A good well is critical for a brewery as water is one of the most important raw materials used in making beer. The hardness of the water and the amount of minerals it contains can have a major impact on the taste of the beer.  Hard water areas such as Northampton were traditionally used to brew ales, whilst soft water areas are used to brew lagers.
Some of the 'brewers' wells' are still in place and one of them is located within a building that we were recently asked to survey.  This building is the original horse and dray stable block on the former Phipps Brewery site (now the Albion and Wells Brewery).
The owners of the site, Michael and Johnathan Teasdale are true custodians of the building and like to keep things as traditional as possible.  They encourage local freethinking artisans and entrepreneurs to occupy the tenanted areas above the Brewery which keeps the whole building alive and buzzing.
Our instructions were to undertake a detailed measured survey of the horse and dray stable block using a Leica laser scanner.  Taking great care not to drop the scanner into the depths of the well, we managed to survey its invert levels – a partial cross section of this historic well can be seen in the scan image below.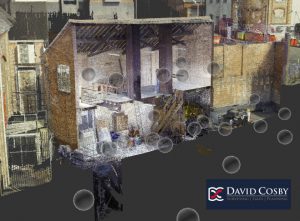 Outside the horse and dray stable block, a further small tributary to the well was also located. We didn't take invert levels of this shaft; however, the clip below will give you an appreciation of its depth (make sure the sound is turned on!).
Once completed, our survey drawings will be used by local Architect Kevin Kiddle of Arcteck Designs to refurbish and breathe life into this interesting and historical building with the intention of providing more inspiring accommodation for local artisans and entrepreneurs to flourish.